The Final Call |
Editorials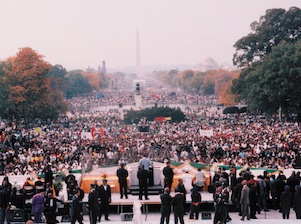 by Demetric Muhammad
I am not surprised. The members of the oppressor's class within a society never approve of the liberator of those whom they oppress. In other words, why would the slave... »
FEATURED STORIES
Today's violence and division cannot be divorced from hatred deeply...
I am not surprised. The members of the oppressor's class...
From humble beginnings in Atlanta rose a man powered by...
Cook County State's Attorney Kim Foxx rode into office as...
Responses to the unfortunate passing of hip hop artist, entrepreneur...
Giving back meant not only supporting people doing good work,...
A major storm has brewed over the Southern Poverty Law...
Shortly before Brenton Tarrant, a 28-year-old, avowed White Nationalist and...
A flood of propaganda has flowed as the ugly, undemocratic...
Once again legal decisions have come back and in the...
For the past 35 years, Jewish leaders and groups, in...
Unrelenting attacks on the Honorable Minister Louis Farrakhan have continued...