The Final Call |
Entertainment News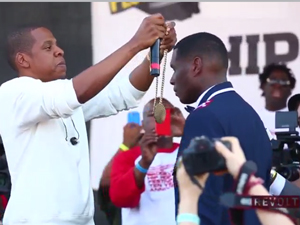 by
FinalCall.com News
Popular recording artist Jay Electronica hit the stage July 12 to perform at the 10th Anniversary of The Brooklyn Hip-Hop Festival in full Fruit of Islam (F.O.I.) uniform. He was... »
FEATURED STORIES
Star power, social responsibility and controversy surfaced again over a...
Popular recording artist Jay Electronica hit the stage July 12...
In less than 24 hours Jay Electronica's declaration that he's...
The Saviours' Day 2014 Concert and Comedy Show featured a...
The Brooklyn bred rapper has recently added "author" to her...
ST. LOUIS - The Honorable Minister Louis Farrakhan said he...
During Pt. 49 of his weekly "Time and What Must...
CHICAGO - One of the most recognizable figures on the...
CHICAGO - The Internet is buzzing about "Black Coffee" a...
CHICAGO - Mahdi Theatre Company presents A Raisin in the...
WASHINGNTON (NNPA) - Under its television deal, each Big-10 university...
Artistic expressions, especially in music, were important components in bringing...