The Final Call |
Entertainment News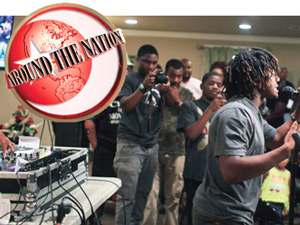 by Rhodesia Muhammad
NEW ORLEANS- On May 27, Muhammad Mosque No. 46 invited local Hip Hop artists to their Wednesday night study group to discuss the Honorable Minister Louis Farrakhan's words that came... »
FEATURED STORIES
Star power, social responsibility and controversy surfaced again over a...
NEW ORLEANS- On May 27, Muhammad Mosque No. 46 invited...
Jay Z rarely uses social media so when he used...
Although Hip Hop is often criticized for its perceived glorification...
You will often hear it wildly publicized when rappers are...
Lil Herb is known for describing the gritty tales of...
Minister Louis Farrakhan delivered a major address today on "the...
LOS ANGELES - Put "ancient Egyptian people" into a Google...
WASHINGTON - Everybody knows Bill Cosby's humor, but the comedian...
CHICAGO—Antwone "Twon Gabz" Muhammad premiered Getting Through which is a...
The shooting death of Mike Brown, an unarmed Black teen...
"What is the benefit when children are crying and people...