The Final Call |
Entertainment News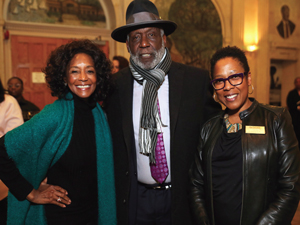 by James G. Muhammad -Contributing Editor-
CHICAGO—In the movie "Shaft," the lead character is a baaad … well, you know the rest. But the actor who played the iconic character told an audience here that even... »
FEATURED STORIES
Star power, social responsibility and controversy surfaced again over a...
A year after host Neil Patrick Harris quipped that the...
CHICAGO—In the movie "Shaft," the lead character is a baaad...
Chicago theater company owner Margaret Mahdi, who has stressed the...
During this time of great confusion and intense conflict, voices...
Mr. Lee said that his purpose for creating this film...
During national mobilization efforts for "Justice…Or Else!" the Honorable Minister...
A snippet of an interview the Honorable Minister Louis Farrakhan...
The Game: I think that he's one of the last...
The Anti-Defamation League of B'nai B'rith has launched its long-expected...
NEW ORLEANS- On May 27, Muhammad Mosque No. 46 invited...
Jay Z rarely uses social media so when he used...