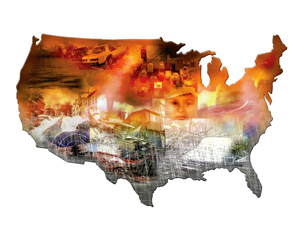 by The Most Honorable Elijah Muhammad
All around the Southern Border of America, storms are raging. There are tornadoes and heavy rains and more storms are on the way—one right after another. And in the North... »
FEATURED STORIES
Since God never chose one to represent Him who did...
The Most Honorable Elijah Muhammad has taught us that beneath...
All around the Southern Border of America, storms are raging....
It is clear that as the master robbed the slave...
One may ask, why am I sharing so much of...
The White slave master brought our fathers here to do...
Among the many things Master Fard Muhammad told the Honorable...
Our arrival in Ghana was preceded by a few whistle-stop...
The doom of America approaches, and there are many people...
We stand in need of His mercy; His grace; His...
There is no subject that we can discuss in this...
According to radio and television; and according to individual conversation;...