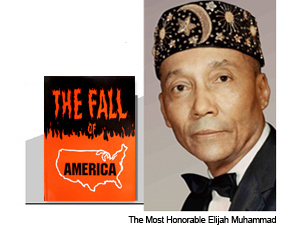 by The Most Honorable Elijah Muhammad
We have no objection to that person who makes up his mind to remain in what he is already in. However, this Announcement of Great Importance is laid before you... »
FEATURED STORIES
There is a natural tendency in the human being to...
Working on the theme of revival, the Honorable Minister Louis...
We have no objection to that person who makes up...
The Honorable Elijah Muhammad recognized Master Fard Muhammad on first...
The Prophet foretold that after three generations or centuries from...
The great country of America and her great richness, great...
What is faith? It is the substance of things hoped...
It was during the Easter holiday week, thirty-six years ago,...
We are living in the time when dissatisfaction is 100...
The Honorable Minister Louis Farrakhan, the great helper of the...
The New International Version of the Gospel of Matthew 13:1-51...
This fear of the White slavemaster has caused you to...