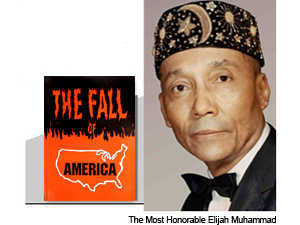 by the Most Honorable Elijah Muhammad
We cannot deny the fact that the Christian West is responsible for this universal corruption in the land and sea. From the same corruption that their own hands have wrought... »
FEATURED STORIES
In my last article, I referred to the Honorable Minister...
The mothers all over the world are saying we're not...
We cannot deny the fact that the Christian West is...
According to the Nation of Islam's sacred Book of Lessons...
The Muslims only believe that one man will return. And...
One of the prophets of the Bible prophesied in regard...
Minister Rahman was among those few, in contrast to millions...
We are being lead as a Nation and as a...
Our former slavemasters, knowing of our dependence upon them, maliciously...
The question to Black leadership is, can you depend on...
This is a great question. America knows her evil-doings against...
Lying behind the Divine Teachings of the Most Honorable Elijah...