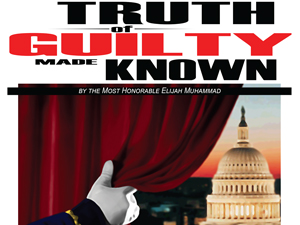 by The Most Honorable Elijah Muhammad
What can the guilty say when the truth of their guilt is made known? I have been teaching for over 35 years what Almighty Allah (God) has revealed to me... »
FEATURED STORIES
What can the guilty say when the truth of their...
From the perspective of a follower of the Honorable Elijah...
To inherit the Kingdom means to purify self and align...
If the religion of Islam takes for its base, the...
Remembering The God within is our inner connection to the...
The World (under the rule of the White race) that...
This world's time expired in 1914. A few years of...
The Divine Teachings of the Honorable Elijah Muhammad are based...
The White slave master brought our fathers here to do...
We are in a unique situation. The wise know it....
Praying to Allah, is praying to the wholeness of the...
The ships of America can be seen everywhere...in every port...