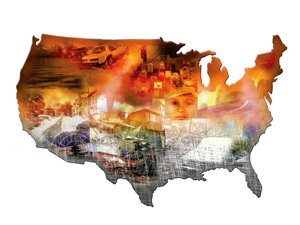 by The Honorable Elijah Muhammad
America, in trying to hold her place as the greatest power among the nations of earth, is one of the most troubled countries on earth today. America brought all of... »
FEATURED STORIES
Not a one of us can get around the fact—whether...
Only the Black man and family members of America have...
America, in trying to hold her place as the greatest...
How will these millions of Whites, not to think of...
According to the Divine Teachings of the Most Honorable Elijah...
My beloved brothers in America, you have lost the respect...
The government only wants to pacify her once slaves with...
On December 14th, a four-hour long documentary aired on The...
This past Saviours' Day Event celebrated on Sunday, February 26...
In the Lessons that Registered Muslims in the Nation of...
The Honorable Minister Louis Farrakhan emerged miraculously, from passing through...
There is no doubt in anyone's mind today that the...