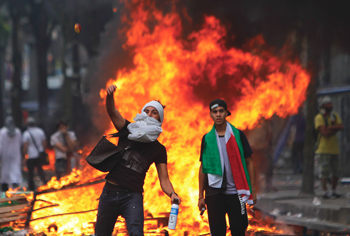 by The Most Honorable Elijah Muhammad
THERE WILL, come a TIME OF TROUBLE that has never been witnessed by man, since man has been on the earth. This GREATEST TIME OF TROUBLE has not yet been... »
FEATURED STORIES
History says that those who are moved by the spirit...
The English writer or author always takes a true history...
THERE WILL, come a TIME OF TROUBLE that has never...
Jesus said, "Except you become as a little child, you...
Last year, as we celebrated the 9th Anniversary of the...
THE HEADS of governments and nations are the root cause...
An article, written several decades ago by the Honorable Elijah...
We come from the Divine and we return to the...
I compare the fall of America with the fall of...
In October 1967, I had some discussions with the Honorable...
All the cells of our body resonate with the intelligent...
IN ALL of America's confusion, which some may refer to...