The Final Call |
National News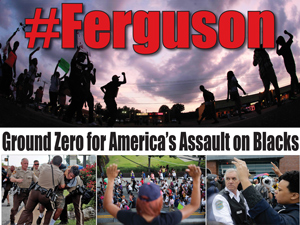 by Richard B. Muhammad and J.A. Salaam -Final Call Staffers-
Fear that a racial conflagration could consume the country FERGUSON, Mo. - Physical fires and fiery passions were ignited here with the decision not to charge officer Darren Wilson in... »
FEATURED STORIES
The final two years of President Barack Obama's term in...
Kill the Messenger movie rekindles interest and outrage over Central...
Threats are a standard circumstance for the presidency, but the...
Justice for Mike Brown Leadership Coalition pushes action agenda and...
Shooting of young, Black Male in Missouri ignites protests, demands...
FERGUSON, Mo. - The National Guard has rolled in, but...
What many see as the daylight execution of a Black...
CHICAGO - The Honorable Minister Louis Farrakhan mounted the marble...
LOS ANGELES - When Audrey Morrissey tells teenage girls to...
PHILADELPHIA - It was with great pride that the board...
CHICAGO (FinalCall.com) - The Honorable Minister Louis Farrakhan continued his...
NBA owner Don Sterling has been condemned and sanctioned but...