The Final Call |
National News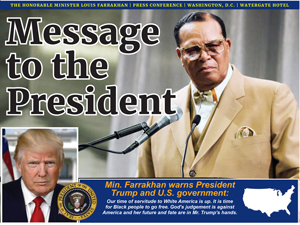 by Askia Muhammad And Richard B. Muhammad, Final Call Staffers
Our time of servitude to White America is up. It is time for Black people to go free. God's judgement is against America and her future and fate are in... »
FEATURED STORIES
Thanksgiving weekend has traditionally been the kickoff to the holiday...
WASHINGTON—The latest crisis for the Democratic Party, sparked by former...
Women's March organizers to strategize, organize and push progressive agenda...
ATLANTA - Religious scholars, historians, and seekers have differed in...
FBI targets what it calls "Black Identity Extremist" groups according...
The Honorable Minister Louis Farrakhan delivers truth behind manufactured controversy...
There are harsh realities facing our communities nationwide. What is...
Terror has struck again on American soil in the form...
An outrageous statement by President Trump forces NFL owners to...
LANDOVER, Md.—Dick Gregory was a comedian, but he was so...
Nuclear hurricane. Storm of the Century. Monster storm. These unimaginable...
As flood waters recede and recovery and cleanup from the...