The Final Call |
National News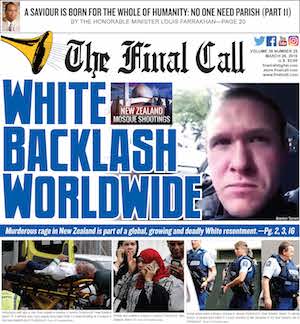 by Brian E. Muhammad and Tariqah Shakir-Muhammad
Murderous rage in New Zealand, which left 50 people killed in attacks on two mosques in Christchurch, is part of global, growing and deadly White deadly resentment, said analysts, activists... »
FEATURED STORIES
Since she entered Congress in January, Rep. Ilhan Omar has...
During a riveting day of testimony before the House Oversight...
The FBI's arrest of a Coast Guard lieutenant who they...
Even though she was never charged with a crime, U.S....
The 2019 Women's March was smaller than the previous two...
People across the country—from those barely familiar with the Honorable...
Hate targeted the Black community from the beginning to the...
WASHINGTON—Pure bedlam rules in the councils of U.S. power after...
Christmas is supposed to be about Jesus, joy, love and...
WASHINGTON—Lies. Lies. Even more White House controversy. Convictions and additional...
The United States will experience more intense heat waves, changes...
I was weighing very carefully the time, the government of...