The Final Call |
National News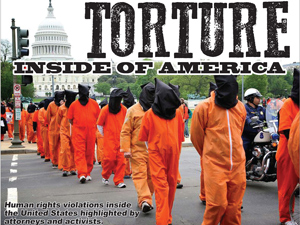 by
Ashahed M. Muhammad
-Assistant Editor-
Human rights violations inside the United States highlighted by attorneys and activists. (FinalCall.com) - Torture, extrajudicial killings, unlawful detention, harassment, beatings, sexual assault, and humiliation are universally recognized as human... »
FEATURED STORIES
Secret gov't operations, set-ups, stool pigeons and political assassinations were...
In a society that paints them as hyper sexual and...
Activists upset as program aimed at reaching youth, combating violence...
President Obama announces 'My Brother's Keeper' initiative but are we...
The year 2013 saw George Zimmerman tried for the killing...
INDIANAPOLIS - Looking and sounding strong while standing and speaking...
Star power, social responsibility and controversy surfaced again over a...
Pooling resources to achieve a common goal is a universal...
COMPTON, Calif. - When neighborhood, religious and city leaders hit...
(FinalCall.com) - Calls for a boycott in the wake of...
Black people pooling economic resources is not an unrealistic fantasy...
WASHINGTON - While President Obama and his Democratic Party allies...