The Final Call |
National News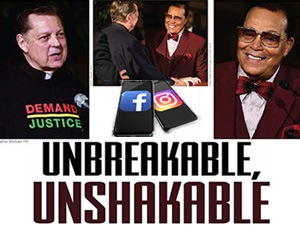 by James G. Muhammad Contributing Editor @jgm3000
A rousing crowd in a packed St. Sabina Catholic church greeted the Honorable Minister Louis Farrakhan and church pastor Fr. Michael Pfleger as they walked arm-in-arm into the sanctuary during... »
FEATURED STORIES
Livid. Outraged. Undeterred and determined. These are just a few...
The 87 year old beloved "Rock of the South" transitioned...
More and more, Black athletes and entertainers are looking to...
Hip hop's prophetic voice is gone but the light that...
The life, death and legacy of Nipsey Hussle not only...
Numbness, despair, shock, and confusion permeated the air around ground...
Fallout continues for the Southern Poverty Law Center (SPLC) in...
Murderous rage in New Zealand, which left 50 people killed...
Since she entered Congress in January, Rep. Ilhan Omar has...
During a riveting day of testimony before the House Oversight...
The FBI's arrest of a Coast Guard lieutenant who they...
Even though she was never charged with a crime, U.S....