The Final Call |
National News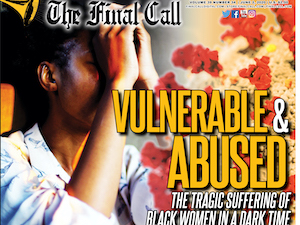 by
Charlene Muhammad
-National Correspondent-
Many cities across the U.S. implemented stay-at-home orders to offer protection during the global coronavirus pandemic. But homes have not been safe for Black women suffering domestic violence or subjected... »
FEATURED STORIES
A police shooting in Kentucky and vigilantes in Georgia and...
Seventy-four days. That's how long it took for two White...
For nearly six decades the Republic of Cuba has been...
As some governors are removing restrictions in the name of...
Covid-19 has carved a deep and deadly path through Black...
Words of condolences, memories of cherished moments and reflections of...
Early data and deaths are showing Blacks are disproportionate victims...
Jay Electronica's long-awaited debut album, "A Written Testimony," has been...
The last place 63-year-old Diane Latiker should be is around...
A crowd of 14,000 people jumped to their feet with...
In recent weeks, Americans grappled with the inevitability of the...
To know and understand the reality of Jesus is the...