The Final Call |
National News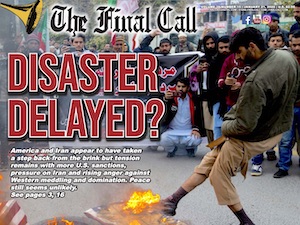 by Askia Muhammad and Barrington Salmon The Final Call @TheFinalCall
WASHINGTON—Despite open rejections as false by Republicans as well as Democrats of President Donald Trump's justification for the killing of Iranian military commander Maj. Gen. Qassem Soleimani, and his impeachment... »
FEATURED STORIES
Hundreds of thousands of Iranians turned out in the streets...
When an opinion article by Peter C. Herman attacking Dr....
2019 saw challenges and signs of a continual awakening of...
The House Judiciary Committee voted to approve articles of impeachment...
Across the world people are planning to celebrate Dec. 25...
Social media warnings of white vans that lock from the...
Annual Black spending strategies designed to support demands for racial...
Donald J. Trump, the 45th President of the United States,...
Blacks still struggle to get proper medical care and are...
Raging wildfires peppered with fire tornadoes that have gripped California...
The United States is in a very critical moment as...
When Black men, women or children are gunned down by...