The Final Call |
National News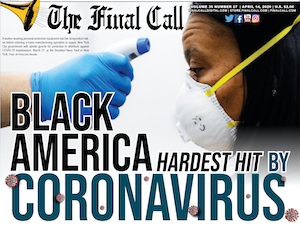 by Stacy M. Brown NNPA Newswire and Naba'a Muhammad The Final Call
Early data and deaths are showing Blacks are disproportionate victims of the Covid-19 pandemic based on health and other problems rooted in historical oppression and inequity. Congressional leaders have called... »
FEATURED STORIES
Jay Electronica's long-awaited debut album, "A Written Testimony," has been...
The last place 63-year-old Diane Latiker should be is around...
A crowd of 14,000 people jumped to their feet with...
In recent weeks, Americans grappled with the inevitability of the...
To know and understand the reality of Jesus is the...
Saviours' Day, the annual Nation of Islam celebration and crowning...
Donald Trump and the Republican Party may have won the...
The world mourned the passing of legendary professional basketball player...
When a mother got a letter from police saying her...
Despite open rejections as false by Republicans as well as...
Hundreds of thousands of Iranians turned out in the streets...
When an opinion article by Peter C. Herman attacking Dr....