The Final Call |
National News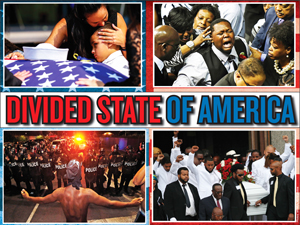 by
Starla Muhammad
-Managing Editor-
Police killings, race hatred, protests and ever increasing tension, division are ripping the United States apart. The president and leaders want to talk but words are not enough. The opportunity... »
FEATURED STORIES
DALLAS — The raw racial wounds that go to America's...
The physical passing of the man known worldwide as Muhammad...
WINSTON-SALEM, N.C.—"What did God create the human being to be?...
State of Black America report reflects continued economic and education...
MIAMI—Black activists and grieving relatives of three girls who drowned...
The Final Call takes a look at underreported tension and...
Vigils, block parties, and celebrations of his life continued across...
NASHVILLE - Business is warfare and an understanding of that...
ATLANTA—"God is in The Bluff," a long ignored part of...
A "tell us something we don't know" sentiment is circulating...
LOS ANGELES - From tanning salons, to spray on tans,...
Just a few days after the conclusion of Black History...