The Final Call |
National News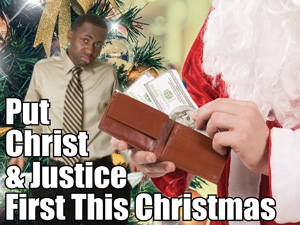 by
Starla Muhammad
-Assistant Editor-
Minister Farrakhan talks to clergy about uplifting Jesus, rejecting Santa, rejecting holiday spending and importance of a Xmas buying boycott CHICAGO - For Pastor David Woods of Mt. Pilgrim M.B.... »
FEATURED STORIES
LOS ANGELES - Coming out of the extremely successful organizing...
COLUMBIA, S.C. - Disdain nationwide and protests in South Carolina...
Farrakhan warns Hip Hop artists traps are being set by...
COLUMBIA, S.C. - Leaders and youth from street organizations, also...
PHILADELPHIA - The city of Brotherly Love is a great...
Farrakhan delivers bold call for Justice Or Else! in Cleveland....
MEMPHIS - A capacity crowd packed the Cannon Center for...
LOS ANGELES - Fifty years after Blacks in Watts rose...
FERGUSON, Mo. - The image of a young Black male,...
MIAMI - Between men and women there is a demand...
LOS ANGELES - The National Bar Association's 90th annual convention's...
In a society that paints them as hyper sexual and...